Looking for something special, something unique?
You've Come to the Right Place.
From creating a unique engagement ring, to designing a pair of earrings that will complement your favorite gem stone necklace, our custom jewelry craftsmen are skilled in creating one-of-a-kind pieces. We are passionate about the quality of our jewelry. Our in-house graduate gemologist, designers, and expert jewelers are masters of both old-world and innovative, contemporary techniques. Whether you have a design in mind, or if you're still gathering inspiration and need help exploring, our team will be able to provide the guidance you need, without a high-pressure sales pitch. Whatever your budget, we'll work with you to create the perfect piece.
---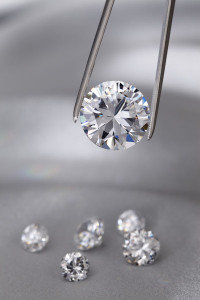 What are the steps involved in custom jewelry design?
START WITH A SIMPLE CONSULTATION IN OUR STORE
Bring along photos, sketches or whatever inspires you. We'll reveal all the possibilities and review examples of actual pieces. Next, we'll advise you on stone quality and sourcing, precious metals, comfort and wear.
NEXT, WE PRESENT DESIGNS FOR YOUR APPROVAL
We will create an accurate rendering of your piece. We want to get it right, so with your input we will alter a rendering, until it meets your exact expectations. When all is as you dreamed, our fine craftsmen are ready to go to work.
THE PIECE CAN NOW BE CAST
Translating the design into a precious metal is a pivotal step. Most often, we use recycled gold and silver and pure platinum and palladium.
NEXT, WE HAND-SET YOUR STONES
Our gem setters are masters of all gemstone setting techniques. Each stone is artfully set by hand to the exact specifications called for in your design, using extreme care to ensure quality.
FINALLY, WE HAND-FINISH EVERY DETAIL
We slowly bring out the shine, texture and detail to perfection. But before presenting you the finished piece, we carefully carry out a detailed examination to ensure that every step of the process has yielded a design that will far exceed your expectations.
Being involved in creating a custom jewelry design makes it far more personal, meaningful and fun.
It doesn't matter how detailed your original vision is, our team will work through every step of the design process with you—from a very basic concept to the creation of your stunning new piece. You'll be able to create your very own piece that's truly unlike any other.
If you're ready to begin the custom design experience, stop by New England Jewelry and speak to one of our jewelry experts. We strive to provide you with an informative, no-pressure consultation. Or, give us a call at 781 749-8318 to set up an appointment.