You've found the perfect, one-of-a-kind girl, now present her with the perfect, one-of-a-kind engagement ring.
At New England Jewelry, we take the rings that live in our customers' imagination, and make them a reality. Our talented team of designers, jewelers, including a graduate gemologist, craft heirloom-quality pieces that will last a lifetime. Whether you have a design in mind, or if you're still gathering inspiration and need help exploring, our team will be able to provide the guidance you need.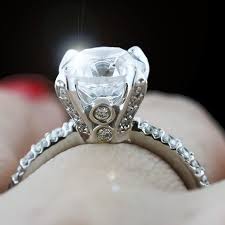 Our personalized, consultative process puts our customers at ease. There are a number of diamond retailers and online stores that offer "semi-custom" rings, but these pale in comparison to the full custom design capabilities available at New England Jewelry. Whatever your budget, we'll work with you to create the perfect custom engagement ring.
Helpful Info
What are the steps involved in custom designing an engagement ring?
How to select the perfect diamond for her?
Make It Special
Being involved in creating a one-of-a-kind engagement ring makes it far more personal, meaningful and even fun. It doesn't matter how detailed your original vision is, our team will work through every step of the design process with you—from a very basic concept to the creation of your stunning new ring that's truly unlike any other.
If you're ready to begin the custom design experience, stop by New England Jewelry and speak to one of our jewelry experts. We strive to provide you with an informative, no-pressure consultation. Or, give us a call at 781 749-8318 to set up an appointment.